Both HDMI to NDI and NDI to HDMI Bi-directional Converter
Kiloview N6 HDMI/NDI converter is a bi-directional converter that supports HDMI input (encoder) to both NDI and NDI|HX with loop through for view on monitor, or HDMI video output (decoder) from NDI and NDI|HX. This is the first NDI converter based on NDI SDK 5.0 which can handle both NDI and NDI|HX, encoding and decoding.
Featured with powerful functions such as PoE, built-in big tally light, PTZ control, 3.5mm audio line in/out, multi-channel audio, intercom functions, N6 is the easiest way to get access to the fabulous NDI world with versatile choices.
NDI 5 is a revolution in video storytelling, you can connect to any device, in any location, anywhere in the world, making the whole world to be your studio.
What's New in NDI 5?
NDI Bridge – A free NDI tool to form a secure bridge between any NDI network regardless of location, making NDI transmission over LAN, WAN or public internet possible.
NDI Remote – Based on WebRTC, it Allows anyone using just a URL to contribute live audio and video to another point anywhere in the world.
Reliable UDP – The key difference of NDI 5 and the previous versions, makes connections more resilient.
Support for ARM – Billions of devices NDI enabled
All-in-One Solution for HDMI to NDI (NDI|HX) Conversion
N6 supports HDMI input and encode both NDI for production and NDI|HX for monitoring, and loop through. At the same time, it supports either NDI or NDI|HX decoding with HDMI output.
Switching the working mode on the UI to choose the mode you need, it can easily meet all your different workflows.
*Note: N6 can be used as either an encoder or a decoder but not simultaneously currently. Please note our update when simultaneous working is available.
Kiloview N6 supports 3.5mm analog audio line in/out or embedded audio as well as Mic in.
It also supports voice intercom between all Kiloview devices and the control PC/phone, or with Kiloview Intercom server.
Seamless Switching without lag
Kiloview N6 HDMI to NDI/NDI to HDMI Bi-directional converter comes with a web GUI console, in which you can preset the NDI to HDMI sources.
With Kiloview unique technology, there will be no splash or lag when switching the output NDI videos.
Control with a USB keypad
In decoder mode, you can preset the NDI sources from number 0~9. Connect the decoder with a USB keypad, you can easily choose the output source by a single press.
Or you can even use the USB Keypad to control a PTZ camera- the cheapest PTZ Keyboard you can get.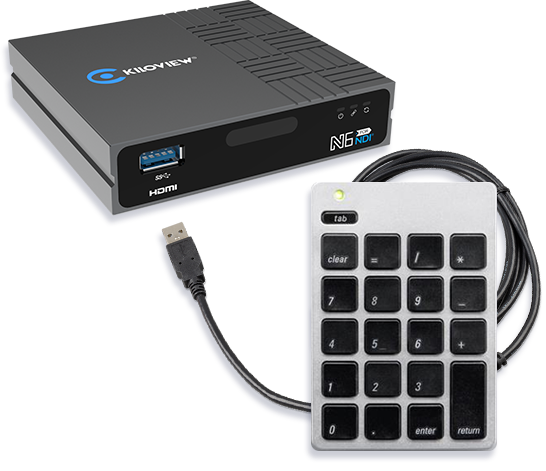 Kiloview N6 supports PTZ control through USB to serial RS232/485/422. It also supports PTZ control over IP with different protocols, no extra cable required.